Stain and Scale Attack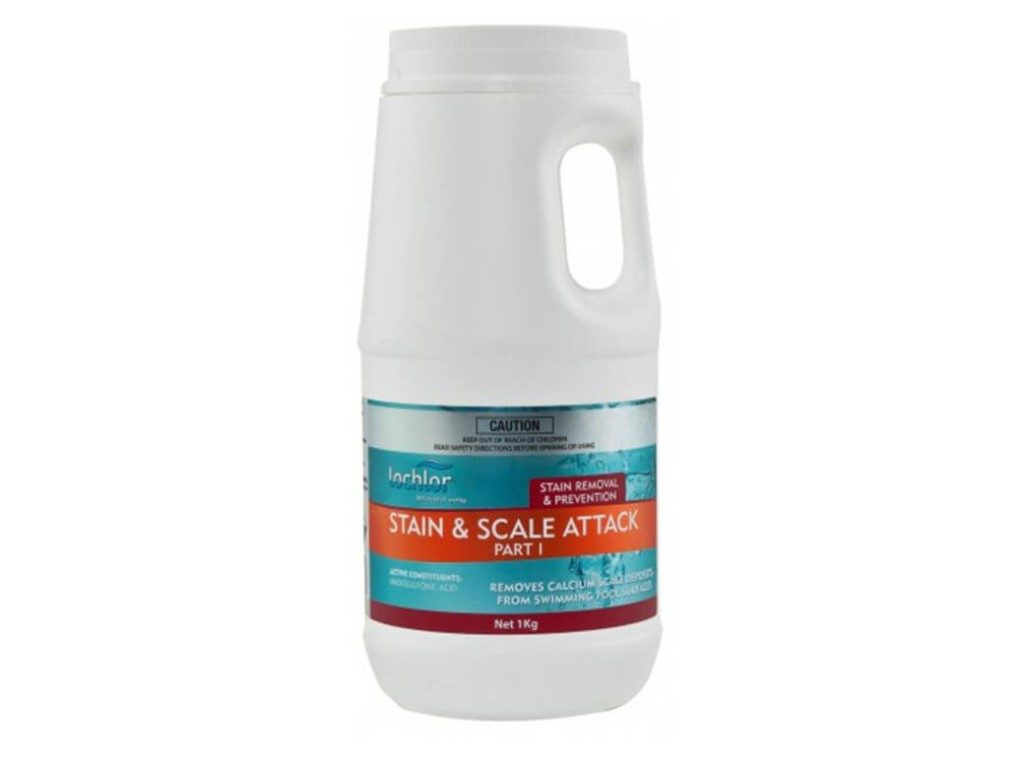 A two part pack which attacks calcium scale in swimming pools
Two highly concentrated formulations from Lo-Chlor Chemicals which combine to form a concentrated compound of organic acids and chelating agents in the fight against
Calcium Scale in swimming pools.
Features & Benefits
Concentrated calcium scale remover
Can also be used as an effective copper stain remover
Lo-Chlor Scale Attack works best at pH 7.0.
Make sure the Chlorine level is below 1.0 p.p.m.
High chlorine levels will neutralise Scale Attack
Lo-Chlor Scale Attack works very slowly. Advise the pool
owner it will take up to 6 weeks before results are sometimes seen
Run pump, filter and Chlorinator, as normal
Do not sprinkle onto pool surface.
Must ALWAYS be mixed in a bucket of water first
Sizes
2 x 1Kg Pack
Treats up to 50,000L water
Dosage
Add 1Kg Scale Attack Part I to bucket of water and mix until dissolved
Then add 1Kg Scale Attack Part II to the same solution
Once mixed thoroughly pour around perimeter of pool
A few facts from the professionals...
After the solution is mixed thoroughly try to pour over as great an area as possible.
Immediately after the addition of Scale Attack the pool will go cloudy.
This cloudiness should disappear within 5-10 minutes
Allow to filter for at least 24 hours after application.
Re balance pool after 5-7 days.
Allow at least 4-6 weeks before you can expect to see any results.
To prevent the build up of new calcium scale in swimming pools add
Lo-Chlor Scale Defence at a rate of 5L per 50,000L